£19.99
£29.99
Multi-Functional Magic Cleaning Sponge v2
 Magic Cleaning Kitchen  Sponge!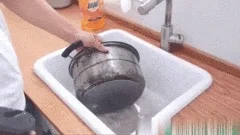 This Multi-functional Magic Cleaning Sponge is 10X more effective than regular sponges!
Made of high-quality sponge and emery, this guy will last up to 10x longer than your usual sponges! It will clean everything and anything with ease!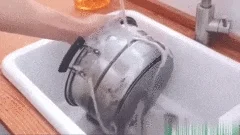 Only one swipe and you will be able to notice the difference. This will give you a tidy and clean home environment in seconds.
What's more amazing is that it's not just a regular sponge- you can even use it as a knife sharpener!
A multi-purpose cleaner that is tough on dishes, pots, pans, bathrooms, sinks, walls tiles and ALL grimy stains!
High-quality sponge, emery surface, fine sand texture, helpful cleaning tool.  Amazing for getting the job done thoroughly!
High quality, durable and safe to use, plus doubles as a Knife Sharpener.
ALSO IDEAL FOR:
Bathtubs/ Bathrooms
Walls/ Floors
Shower tile
Sinks
All dishes and grease stains
BEFORE & AFTER EFFECT
Features
✅ HIGH-QUALITY MATERIAL 
The cleaning sponge inner layer is a high-density sponge, good flexibility, rapid and effective decontamination.

✅ EASY TO USE 
Wet the pot and sponge before using it. Add some detergents for better effect. It can easily clean up rust and oil stain on the pot bottoms too.

✅ FUNCTION 
Use for stubborn dirt stains, cleaning all kinds of kitchen utensils or stove. Works on stainless steel, enamel, stoneware, countertops, wood, chrome and more.

✅ WIDE USE 
Our sponge is suitable for pots and pans, stainless steel, glasses and more.
Specifications
✅ Material: Sponge + Emery
✅ Weight:50 g
✅ Size:14×8 cm (5.51×3.14 ")
✅ Usage: Household Cleaning
✅ Type: Cleaning tool
✅ Style: Hand
Product Includes
✅ 1x MULTI-FUNCTIONAL MAGIC CLEANING SPONGE