£19.49
£38.99
360 Degree Automatic Garden Sprinklers
Keep your grass and garden hydrated!
This is the perfect addition to any garden or lawn care system.

Our 360 Degree Automatic Garden Sprinklers is equipped with an interface rubber ring to prevent water leakage. If your hose already has a screw thread, simply connect to the garden sprinkler. It also comes with a black nipple connector which can fix the traditional rubber hose. Three automatic sprinklers only need a few seconds to install and prepare for watering.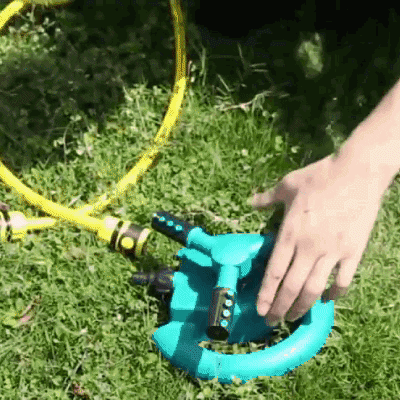 Different from other lawn sprinklers for garden, this lawn sprinkler is equipped with 2 different nozzles so that allows you to switch different kinds of sprinkling mode on this lawn sprinkler to satisfy your various water spraying need. Lower price but more modes, really cost-effective.
The spray distance reaches up to 32 ft and covers up to 3600 square feet. It uses water conservation technology that lets you save 70% water but with stronger pressure.
You can efficiently water your plants with minimal effort while you can have more time to do other stuff or use it as a fun attraction for your little ones to run around and cool down during hot summer days.
Features:
Unique Anti-leak Design. Comes with upgraded leak-proof water pipe fitting. You don't have to worry about water leak if you need to leave your sprinkler unattended. This upgraded water pipe fitting enhances the connection, avoids leakage effectively when watering your lawn or garden.
Sprinkler for large areas. It has three arms,12 built-in nozzles, 360 degree rotating action, efficient, quick watering. It covers a lot of area with a spray distance up to 26 ft-32.8 ft with international standard water pressure (80 PSI). Another impact sprinkler with huge spray distance and huge spray impact spray! 
Automatic Sprinkler Lawn Irrigation System. It has adjustable spraying angle ,rotating arms can be adjusted 45-90 degree to achieve various water spraying effect. 90 degree for more compact watering and 45 degree for watering larger areas. This lawn sprinkler save water and time, works efficiently and water quickly.
High Quality and Easy to Use. It is made of ABS + TPR Plastic, it is sturdy, constant use, stable performance, long service life, non-toxic and tasteless.This lawn sprinkler easy to use ,just connect water joint to connector and tap. Then the garden sprinkler will activate automatic sprinkler lawn irrigation by the water supply
Sprinkles widely. Ideal for lawn irrigation, garden watering, yard irrigation, agricultural field irrigation, square cooling, watering & cleaning.And also can be used as a fun for kids to play and cool down on hot sunny days.
Specifications:
Sprinkler Type: 

360 Gear Drive

Lawn Sprinkler: 

Garden Water Sprinklers

Material: 

ABS

Size: 

15cm x 9cm
Package Includes:
1 x 360 Degree Automatic Garden Sprinklers